7.2 Magnitude Quake Rocks Baja California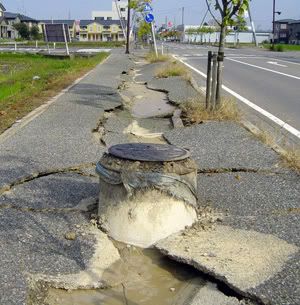 Well, the Earth did it again! A 7.2 magnitude quake hit Baja, California this morning and was able to be felt in Los Angeles, San Diego, and even Phoenix, Arizona. While no deaths have been reported there is report of damage across the west coast.
From The New York Times:
LOS ANGELES – A powerful earthquake just southeast of Tijuana shook southern California Sunday afternoon, damaging buildings in border towns and rattling a seismically-sophisticated population as far north as Los Angeles and Phoenix.
Chandeliers swayed, homes shook and the earth seemed to slide under the feet of people emerging from Easter church services for well over a minute as the quake rocked states in Mexico and the United States.
The 7.2 quake struck just after at 3:30 p.m. local time, and was centered 16 miles south-southwest of Guadalupe Victoria in Baja California, Mexico, and about 108 miles east-southeast of Tijuana, according to the U.S. Geological Survey.
The earthquake occurred about 20.1 miles below the earth's surface, the geological survey said. Experts have said that such a depth increases the chances that the earth might absorb a majority of the shock, reducing the chances of damage on the surface. A 6.9 earthquake can cause major damage in structures, crack the ground and shift foundations.
At least five possible aftershocks were reported, including a 4.5-magnitude quake 62 miles east of Tijuana, reported at 4:09 p.m., and a 5.1-magnitude quake near Imperial, Calif., at 4:15 p.m. A 3.8-magnitude quake was also reported 12 miles northwest of Jacumba Hot Springs, Calif. at 4:19 p.m. A 3.6-magnitude quake was reported 7 miles northeast of Julian, Calif., at 4:22 p.m.. A 4.3-magnitude quake was reported 15 miles west-southwest of Calixico, Calif., at 4:34 p.m., and a 4.7-magnitude quake was reported 14 miles south-southwest of Mexicali, Baja California in Mexico, at 4:37 p.m.
Our thoughts here at WES are with those affected by this quake, those that are continuing to deal with these past few weeks/months of quake damage still, and are hoping that the quakes end soon!