Uganda Proposes Anti-Gay Bill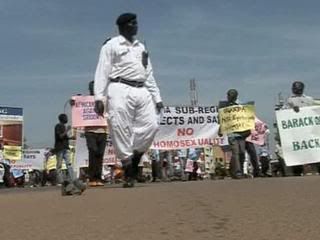 World leaders, including President Obama, are condemning Uganda for proposing a bill that would make being gay not only illegal but would call for the death penalty or life imprisonment for HIV-positive homosexuals who have sex with minors.
U.S. President Barack Obama criticized the Ugandan measure while speaking at a prayer breakfast Thursday in Washington.  "We may disagree about gay marriage, but surely we can agree that it is unconscionable to target gays and lesbians for who they are — whether it's here in the United States or, more extremely in odious laws that are being proposed, most recently in Uganda," he said.
The bill's author, Ugandan politician David Bahati, has this response to nations threatening to withhold aid if his measure passes.  "We would rather stay with our values and you stay with your money," he said.  

Gay rights activists in Uganda say the measure has intensified anti-gay prejudice. Pepe Julia Onzeima says she has been harassed frequently. "I have been picked up off the street, detained for sometime, ridiculed, intimidated, some money taken away from my wallet, and then I am.. .you know, they release me, they tell me 'go,' " she said. 

Anti-gay measures have emerged in some east African countries in recent months. Kenya and Tanzania already have anti-gay laws that gay rights activists fear could be expanded. (Voice of America, 2010)