Chile Earthquake – Impending Doom?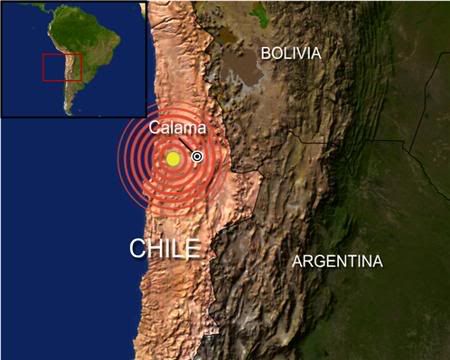 Many questions are arising after a massive 8.8 earthquake shook Chile yesterday in the early hours of the morning. What do these earthquakes mean for the future of the world and does it mean it's a sign of 'the end'?
Chile Earthquake Details
Magnitude
8.8
Date-Time

Saturday, February 27, 2010 at 06:34:14 UTC
Saturday, February 27, 2010 at 03:34:14 AM at epicenter

Location
35.846°S, 72.719°W
Depth
35 km (21.7 miles) set by location program
Region
OFFSHORE MAULE, CHILE
Distances
100 km (60 miles) NNW of Chillan, Chile
105 km (65 miles) WSW of Talca, Chile
115 km (70 miles) NNE of Concepcion, Chile
325 km (200 miles) SW of SANTIAGO, Chile
Even now (as of 3 hours ago local time) aftershocks are being felt in the range of 6.1 to 6.9.
With 214 people confirmed dead and the death toll expected to rise, Chilean rescue workers rushed to save people trapped by Saturday's massive earthquake — including dozens feared inside a collapsed apartment block in the city of Concepcion.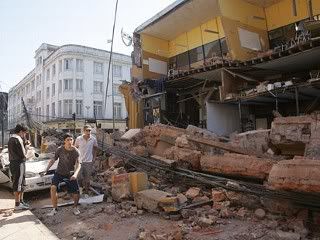 The 8.8 magnitude earthquake was one of the most intense ever measured. More than half a million homes were destroyed in an event scientists said was 500 times stronger than the earthquake in Haiti.
In the hours after Chile's quake, coastal cities from Japan to Australia were placed on alert for a tsunami. Most areas were spared widespread destruction from the waves, though some deaths were reported on a Chilean island.
What's for certain is this: everday around the world there are quakes that are reported to the USGS. Is our Earth changing, probably. Is there more 'impending doom' in the wake of another crisis, maybe. We should all just relax and enjoy everything though, because even IF the world is ending don't you just want to remember the things that didn't suck?