Conan O'Brien Exits NBC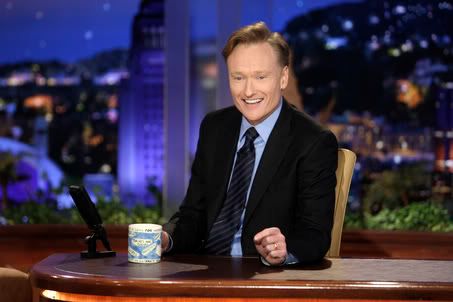 As I'm sure everyone has heard by now, Mr. O'Brien has exited NBC with a 45 million dollar deal. His last show will be today (Friday, January 22).
Reportedly 12 million of the 45 million dollar deal will go to his staffers, most of whom moved from New York City (just like Conan did..) to Los Angeles to continue working on his show. Unfortunately the breakdown of severance for each employee doesn't amount to that much when you tally up how many people will be out of a job. It has also been reported that only Conan's top paid employees (likely the Max Weinberg band, Andy Richter, producers, and writers) will continue on when and if the show moves to another network. However, due to the exit contract's stipulations it looks like the show won't be able to start up somewhere else until September.. for many that's a long time to go without a monthly salary.
NBC is putting Jay Leno back into the Tonight Show time slot, a move they feel will help boost NBC ratings. Personally, I think that it's not just me that is disgusted with everything that went down. Sure, Mr. O'Brien got to walk away with a huge chunk of cash but at the same time he has lost his dream. A dream that he only got to hold onto for 7 months. People say that Jay Leno didn't want to take the Tonight Show back and it was offered to him via NBC. If this were the case shouldn't he have just said no thanks?
I really hope NBC realizes what they lost with getting rid of Conan and I hope even more that Conan and his staff are able to find a new home on a better network.