Blizzard Lingers in Midwest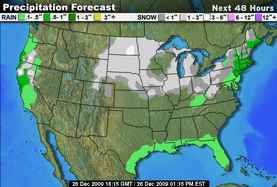 After the holiday storm ripped through the midwest leaving anywhere from 4-16″ of snow in some places, it's now lingering over the Iowa and Michigan region.
Travel conditions remain dangerous if not impossible for most of the midwest (including the Dakotas and Nebraska). Officials are hoping that by tonight the winds will abate enough for plows to begin to clear the interstates, highways, and secondary roads so that holiday travelers can start back home.
Many roads that run through Nebraska and the Dakotas were forced to shut down over the holidays and the latest word is that these roads will remain closed until officials can re-evaluate the situation. I-29 is closed across the eastern Dakotas (from the Canadian border to the Nebraska border), I-94 is closed across most of North Dakota, while Highway 83 is closed north of Bismarck and Highway 2 from Minot to Devils lake. — In fact, except for the northwestern part of North Dakota, most of the roads are closed or impassable.
Parts of northeast Kansas and into Nebraska and South Dakota have reported drifts between 6 and 10 feet which are keeping plows from getting to the roads and keeping them clear enough to be considered travel worthy and safe.
Snow totals neared 2 feet in the Duluth area in northeast Minnesota and the snow peaked at 30 inches in Deadwood in the South Dakota Black Hills.
Weather forecasters have predicted that snow bands will continue to hover over the Dakotas allowing for several more inches of accumulation by the end of today. Further east across the Midwest and into the Great Lakes and the Ohio Valley snow showers have continued to develop with the expectation of 1-3 inches more of snow over those areas through tonight.
The good news is that the storm system will continue dissipating and will press eastward by Saturday night until ultimately the blizzard will release it's hold on the midwest.
(Photo and Weather predictions courtesy of Weather.com)