Iceberg Dead Ahead
Taking a small break from the food industry bashing to focus on this monster: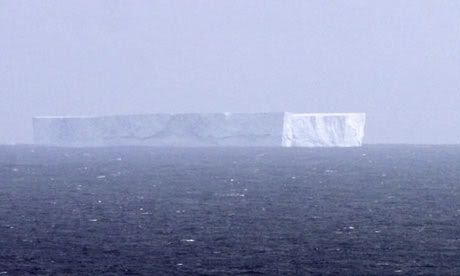 It's a beauty isn't it? Well this little chunk of our ice shelf is floating halfway between New Zealand and Antarctica around Macquarie Island.
Measuring at 50m high from the waterline and 500m long this massive giant is sitting happily about 5 miles off the island's coast.
However, if you think this one is large you should check out the stats on one that broke off the Ronne ice shelf in 2000 – a 190 mile long and 23 mile wide behemoth!
Scientists have said it is rare for icebergs to be seen so far north. Neil Young, an Australian Antarctic division glaciologist, said: "The iceberg is likely to be part of one of the big ones that calved from the Ross ice shelf nearly a decade ago.
"Throughout the year several icebergs have been drifting slowly northwards with the ocean current towards Macquarie Island. We know there are also a few more icebergs 100km-200km to the west of the island."
Apparently no one wants to say it's "global warming" but really.. look at that thing!