Americans are Food Insecure (Part 3 of a 4 Part Series)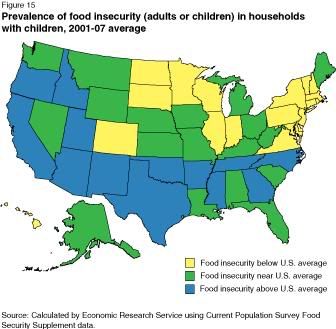 Last week the U.S. Department of Agriculture released a shocking report on hunger in America. The report found that some 49 million Americans (16+%) lacked dependable access to adequate food last year. This is an increase of 13 million people over the previous year when only 12% Americans suffered from what the U.S. government likes to call "food insecurity". 
The most shocking fact of this 2008 statistic? The number includes 17 million children (or 22.5% of all of the children in the United States).
These numbers are the highest since they started recording them in 1995.
It is obvious to many that the reason for the lack of an ability for many families to provide adequate and nutritious food for their home is because of the staggering unemployment numbers (10.2% in recent counts). Many people have to turn to relying on food stamp or other food programs and food pantries to help gain the nutrition that they so desperately need. 
"To have that many Americans uncertain about where their next meal is coming from should be a national call to action. If President Obama is to even approach his goal of protecting all American children from hunger, he will have to act forcefully to expand federal nutrition programs. But beyond that, he'll have to tackle the root of the rising hunger problem in America — high unemployment — far more aggressively than he has to date." (The Post-Standard Editorial Board)